Who is meaning tree for?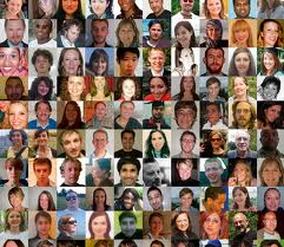 worldofdifference.vodofone.uk
"We know what we are, but not what we may be."
―
William Shakespeare
"No one goes there anymore, its overcrowded"
Yogi Berra
"I just want to go back to a place where I am ostrecized for who I am, not who I pretend to be!"
Lisa Simpson (from the T.V show The Simpsons)
"Who are you?"
The rock band The Who
---
Meaning Tree is for:
Those who understand that despite the fact that the question of meaning is very difficult, if not seemingly impossible to answer, is nevertheless, unavoidably important and worthwhile pursuing.
Those who simply do not know one way or the other if there is any reason to believe that meaning is anything other than an illusion but are willing to engage in a dialog concerning its potential reality & importance.
Those who strongly believe in a purpose of life that leads to meaning, but do not know how to describe or justify their intuitions and beliefs concerning meaning.
Those who may be leading good even successful lives, but still feel deeply unfulfilled or have a sense of yearning or feeling that something is missing.
Those who are seeking the wisdom of a holistic or unifying concept, a belief and relationship capable of pulling together the many elements and struggles of life into a coherent model for living.
Those who possess a personal faith, and sense that those beliefs are under the scrutiny & pressures of modern living that challenges many fundamental notions of a spiritual world- view and concepts like meaning.
Meaning Tree is an attempt to create a guide to deal with the complexity of the subject and question of meaning. It proceeds incrementally, step by step - 'branch by branch' as a dialog, a process oriented approach that harnesses the human capacity and desire for growth and purpose, neutralizing the long held perception that the question of meaning is to difficult to answer. It is my hope that some will see the value in its approach and engage in that very process of growth and change. That at the very least will begin to see the pursuit of meaning in a similar light as love and harmonious relationships the pursuit of meaning requires work and does not come cheap.

Send me an email with a question, comment or whatever is on your mind:
questions4meaningtree@meaningtree.org


The beckoning - why we ask why?
If you have read this far it is perhaps because you have felt that little tug within to see if what we are talking about here has anything to do with that persistent feeling or stir that you experience when the subject of meaning or purpose of life comes up. Many of us, myself included, have experienced this inexplicable feeling, sensation. even something of a presence, when we engage in deep, open and honest contemplation about who we are and what we are here for both collectively as a species and individually as well. Those special moments in life when we are confronted with the experience of awe, gazing out into fathomless starry night, the rising and setting of the sun, holding our newborn for the first time, acts of passionate love or substantial personal sacrifice. For others when life is moving along fine, suddenly without warning, we hit a wall and everything changes. We lose some one close to us, the loss of a romantic relationship or job, or a personal diagnosis of a terminal illness drive us to ask, why - what is the meaning of this?

So often we forget to pause in gratitude in the realization of the beauty of the gift of consciousness itself and those instances when mystery and wonder beckon us to consider that there may very well be more to it all, to everything that human eyes have or can see or what the mind could possibly even imagine. Perhaps, your encounter with the question of meaning has not been that romantic and you just want to be able to figure out "why the hell your life is so screwed up?!" Or, why all the suffering? On a deeply personal level our question may go more like; "why is my existence not just a struggle, but much worse, a struggle without an identifiable purpose or cause?"
As some may describe the conundrum 'a life of battles that seems like a war without hope a cause o resolution or victory'.

No two people perceive or experience a life without purpose or loss of meaning in the same way. Some face their journey through life, their 'search for meaning' harboring a very unsettling persistent emotional pain, while others experience it as something of an intellectual frustration and many more ignore it like the inevitability of death. As Dennis Ford points out in his book The Search for Meaning; "The possibility that our lives may be pointless leaves us naked and vulnerable. All of us seek a life of meaning and purpose, but finding such a life is difficult Thoreau was wrong when he observed that most of us lead lives of quiet desperation. Most of us I think, lead lives of denial." (p-xi)
Viktor E. Frankl the late great psychologist, German death camp survivor and author wrote,
"Man's search for meaning is the primary motivation in his life and not a "secondary rationalization" of instinctual drives. This meaning is unique and specific in that it must and can be fulfilled by him alone; only then does it achieve a significance which will satisfy his own will to meaning." Almost all of us are too busy trying to survive to take out the time to begin to deal with enormity of this dilemma. We end up trying to take shortcuts to meaning or the feeling that life has a purpose, in the forms of materialism or sensuality, religiosity, scientism (a religious belief in science) or some other worldview of our own invention.

Many of these are features of a 'normal' or even a healthy life,are fine, but they are not enough on their own to provide us with a model for meaning. Ironically, even a healthy intimate relationship, the service of others, when pursued in excess can rob us of true meaning. Where do we look, or who can we trust for the answers?

The roots of meaning tree?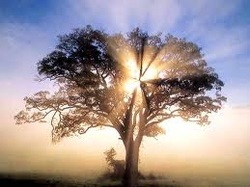 ctrhotspot.com
The terror attacks on America in 2001 became a personal catalyst for several years of intensive personal inquiry into the fundamental questions that such historical incidents can bring on. As a first responder, working in NYC, after the terror attacks of 9-11, I found myself in many conversations with my co-workers, friends, family and acquaintances concerning the state of our world, threats to America's future and the many other 'why' questions that arise when terrible things happen and innocent lives are lost or altered forever. There are many themes and variations to these 'why' questions but usually have the following forms; "how could a God of love allow such a thing to happen?" or "Why would any individual believe that by committing acts of terrorism they are fulfilling their destiny?" or "How do any of us know we have any guarantees in life.?" These problematic inquiries are also directly related to other questions such as; "Is there a reason to believe in the existence of god or has scientific discovery removed the need for faith?" or "Is there such a thing as truth and justice?" or "how do we go about living a life of purpose?'" Who can we trust in our pursuit of meaning?"

---
Meaningtree.org is the result of over a decade of dedicated study on the many issues (branches) related to these questions. Because I am not a tenured professor or speaking on behalf of a religious organization I have been free to research and draw conclusions that do not need to be contextualized in an institutionalized-religious or what can sometimes be an equally dogmatic secular worldview ingrained in much modern academic approaches. Rather I have made much progress in my quest simply because I am not tethered intellectually or socially to any particular interpretation or approach. However, I consider the question of meaning to be of the utmost importance and I am very committed to philosophical accuracy within the context of a non-authoritarian & non-institutionalized approach. Though I do have insights that are helpful I am much more motivated by being inclusive of as many sources and approaches as possible. I am not driven by dictating to anyone about the meaning of life, I simply want to share what I have learned in the process of creating a coherent perspective for purposeful living in the pursuit of meaning.

I hope that this perspective may serve to enhance the subject of meaning, particularly for those who are struggling to understand the many players in the battle of worldviews, such as; modern scientism'/atheism and religion as well as a host of gurus and individuals with strong personal agendas. I also believe my twenty years of policing the streets of New York city, gives me somewhat of unique and hopefully 'down to earth perspective' of the reality of the human condition for better or worse. On the other hand, as a musician and student of history, I am deeply appreciative of the soul's need for beauty and emotionally satisfying perspectives that sometimes only an artistic approach can provide. My studies and education have allowed me to navigate through the various approaches of science, history, Biblical theology, psychology as well as some cultural insights. Because my friends, acquaintances and family are from many different ethnic, economic and educational backgrounds as well as levels of achievement I have come to respect the variety of ways in which we individually and collectively approach life in our diverse attempts to define purpose of life which has likewise become a part of this dialog.

My objective is in no way to impress people with my knowledge or sell anything, (there are plenty of other places to go on the internet for that) rather it is much more important to me that the visitor/reader gain insight, apply some or all of the suggestions and lead an enhanced life of purpose in the pursuit of meaning. The ideas, notions, insights, truths, principles and wisdom found here in Meaning Tree are not necessarily new. In fact, many of them have been around for ages and I will argue that they deserve a new sense of consideration & life because of the challenges of modern living, the recent discoveries made in science and a world on the threshold of great change. This is what I believe makes the approach of Meaning Tree unique. It acknowledges the merits of scientific discovery, while remaining rooted in spiritual truths dating back over three thousand years attempting to create a coherent balance between both approaches to defining reality.

I am not proclaiming that I have a new truth, or that I have unveiled 'the secret', (hidden for centuries) or can provide some special revelation that is for some mysterious reason - exclusive. In fact, this is more about the pursuit of meaning than about meaning itself and therefore as much concerned with process as pretense. I do not feel compelled to declare or dictate what is supposed to be believed in order to discover meaning. However, as we will discover some truths are in a sense almost inherent and I will make an argument for their importance as well.


Why is Meaning important?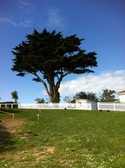 "Don't be afraid of death so much as an inadequate life."
Bertholt Brecht

"I am not afraid to die, I just don't want to be there when it happens."
Woody Allen

"Dying is the worst thing that ever happened to me."
Edward bloom from the movie The Big Fish

---
Unfortunately, not everyone feels that their life, or anything for that matter, has meaning. Many young souls expend their most precious years in pursuits that really do not amount to very much, in the grand scheme of things. When we are young it is so easy to squander life's energy & time on self-gratification and pursuits that really do not add up to anything of value. Not everyone reaching their twilight years can honestly say that their life had a purpose and perhaps some simply do not care one way or the other. Others keep procrastinating because they do not know where to start or who to trust or are not able to bring themselves to admit that they need help. Still yet others are very intimidated by having their worldview challenged or or worse yet, perhaps being confronted with the need to alter something fundamentally flawed in the way they think concerning what is truly important in life. However, sooner or later the question of the meaning of life will catch up with us. We will come to a moment of contemplation, or a time when we lose something or someone dear to us, and we find ourselves asking; what is all this for, or, what can I do differently, or believe differently to lead a more satisfying life?

We will explore why living life with purpose, should be at the top of our priorities, why being able to declare by example or word, to ourselves, our loved ones that our existence is fulfilling its mandate is a goal. Moreover, when living with purpose is done so in the context of the pursuit of meaning we will have certainty that our life is not squandered or wasted.


Meaning is not just about some future goal, reaching some privileged state of spiritual maturity or intellectual enlightenment, it is very much about a process of how we discover life, uncover its mysteries, find truth, and pursue peace. It is about the kind of fulfillment we find in healthy relationships.
In the process of this personal discovery about how we make choices that will ultimately shape our story, our very being and how we may potentially instill meaning into the lives of others.


The pursuit of meaning is about how we make our decisions today and why we should make them. It is also about understanding that life is not about what we want. As the great psychologist Viktor Frankl once told his students, "the meaning of your life is to help others find the meaning of theirs."

It has become a modern mantra that we can improve the world one random kind act at a time. It is my conviction that the world will radically change when an individual embraces meaning and purpose of life and inspires others to follow in that journey.
What differentiates meaning tree from other approaches
· Meaning tree seeks to make a clear distinction between purpose and the pursuit of meaning as being related but somewhat different as concerns the human struggle of daily living. This distinction makes the problem of meaning more manageable.
· Meaning tree is not primarily based or focused on a religious approach. It implores psychology & science as well as philosophy and can be understood from an atheistic point of view as well as from a position of those possessing faith. In this way it is more akin to the ancient wisdom book of Ecclesiastes an approach that considers all truth in life to be branches of the same 'root' source and applicable to the good the evil, the believer and the doubter as well as those who just do not know one way or the other.

· Meaning tree treats purpose as a model to live by for the intent and commitment of achieving specified goals, success, enjoyment & thriving in life, happiness, as individuals as well as collectively.
Meaning tree does not identify meaning as merely being a philosophical question to be answered according to some contrived techniques rooted in academic savvy.

· Meaning tree identifies the problem of meaning as a common dilemma that each individual should resolve to confront in the depths of their own being through universal truths that we all share.
The symbolic power in the metaphor of a tree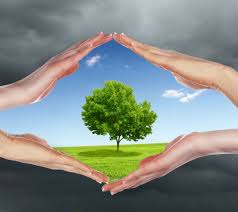 As stated one of the primary goals of meaning tree is to create a dialog, an approach or a learning experience that is as organic as possible. The metaphor of a tree is common to ancient spiritual traditions but still works particularly well in an age when science has revealed many of the symmetrical wonders of life. Trees are essential to the existence of life and very close to our everyday experience. Think for moment of the process of how children may discover a tree climbing incrementally branch by branch. This process of discovery is made possible because trees inherently possess a hierarchy of interconnected branches that are related functionality, connected through a common history, adorned in symmetry, for the goal and purpose of survival. As we seek out the far reaches of human knowledge of sciences and the profound wisdom of ancient traditions, we do so with the support and strengths of what has already been learned, tested, established and proven trustworthy or reliable. Additionally, like a tree, as we grow, our roots extend deeper reaching into an unseen, hidden and complex fabric of fluctuating symbiotic relationships . In the end, we like the healthy tree become capable of blessing our environments and the lives of those around us. Without the goal or purpose of survival life withers. A big part of the meaning that life finds in the purpose of survival is the continuation of life itself.

in the modern pursuit of of rational approaches to learning and in contexts in which complexity prevails, we often use the expression of a tree of knowledge to build in, or establish a sense of hierarchy. In ancient times religious indigenous mythology, Eastern traditions, and in the Hebrew and Christian Scriptures, there are many references that implore the metaphorical symbolism of a tree. As a pedagogical tool it serves in many diverse ways ranging from the subjects of relationship to spiritual/intellectual health in individual as well as collective contexts and the ever expanding theories & discoveries in modern sciences. likewise the question of meaning possesses a very complex hierarchy, having both a very real & fundamental relational qualities that will make the use of the metaphor of a tree very useful. Every branch is intended to relationally carry the weight of related subjects of philosophy, psychology, religion, spirituality, history and modern scientific discovery concerning consciousness and the actual nature of reality itself. It is a fundamental premise of Meaning Tree that all these various branches can in relationship to a fundamental 'trunk' of truth rooted deeply in unseen symbiotic relationships will create a holistic and coherent model for purposeful living in the pursuit of meaning.
---
Tree climbing and meaning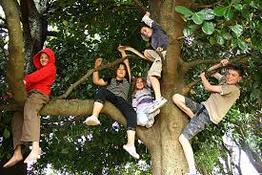 "The spirit of play is at the heart of imagination, creativity, and innovation. In playful environments, we're prone to
divergent thinking
(generating numerous ideas about a topic) and are more inclined to push the limits of what's possible into the impossible.
Climbing trees may not seem like
highly cognitive work,
you have to
map your idea
(a will to climb a tree)
with your reality
(how will you climb that tree?). And then you have to
send signals from your mind to your body
to
problem solve t
he execution. You might have to make room for a friend, which can build
emotional intelligence
and help develop
spatial reasoning.
And when you reach that branch that always eluded you, the feeling of pride is beyond belief. You've accomplished something that only you could accomplish. You've tested your strength and your limits, and proven to yourself that you can achieve what you set your mind to." tinkerlab.com/how-climbing-trees-builds-creative-thinking
---
In a sense as we confront the question of meaning, we are like children standing at the foot of the tree with its roots below our feet and the trunk immediately before us, gazing up through the myriad of branches and choices. Often the task seems daunting just as life is full of unexpected challenges, expectations, and potential for achievement. Choosing a particular tree, or how to climb it once it is found, is somewhat like deciding to lead a life of purpose, it is certainly not a simple undertaking. It is rather common to get stuck on the problem of the questions; Where and how do I start? Do I have a plan? Am I willing to take chances? What will I get out of it all?

For the adult, or young adult confronted with the complexity of life's many choices the pursuit of a plan or a value system in make life's most crucial decisions is far from simple. Unfortunately, life can be very complex and our decisions will often determine the quality of our life, or even whether or not we come to believe that our very existence is justified. For many it is a question of whether not we live on auto-pilot and follow the generic plan that many around us declare to be 'the normal life' or whether or not we pursue a plan that is tailored to our individuality and the passions of our heart.

Trees like life are complicated. Climbing like living requires willingness.
Like life the tree climbing experience involves:
addressing questions and problem solving

discovering the personality/character, limitations, hierarchy and even the mysteries ahead
a process in which we are challenged and grow experentially as well as in confidence
a process of discovery of the significance of our place relationally to the complexity of our environment, others and our 'inner selves' as well
the acquisition of our sense of importance, skill and potential to exercise the power of freedom. choice and helping others
the discovery of what is perhaps life's most precious gift - living in the presence of meaning
How we identify and execute a plan for purposeful living in the pursuit of meaning raises many questions, and this is where meaning tree begins, with the questions.