Taking in the larger perspective
In a sense we have come full circle, and return to the question of meaning and hopefully understand a little more now then when we first began. Each branch we have explored has revealed a little more of the about meaning, its history, unity & relational symmetry, and most important how it relates to living. Perhaps, t'he climb' has led us to a slightly better view of life, our surroundings and our relationships as well as our place in an overall scheme of trying to live with purpose. Maybe we have been led to do a little contemplation of why we are where we are in life & what that implies. In our climb of discovery we should be recognizing the importance of identifying our worldview, the significance of choices, motivation and the importance of seeking wisdom. Now we are hopefully ready to live in and by the lessons we have learned not just in understanding the character or nature of meaning itself but how its pursuit has a power to inwardly transform us for better. In a sense, like love & wisdom, meaning is emergent of consciousness and as I will detail here, requires something of a transcendent or spiritual context. Unlike, simply having purpose in life, meaning requires us to seek a much larger picture than we are capable of obtaining through our own intellectual skills and cleverness. I believe that like love & wisdom, meaning beckons us to inward transformation or change and invites us to come and live in the experience of its presence.

Roots
"Everything changes, is always changing," the mountain reminds me. And yet, it reminds me, too," There is a bedrock, a level of spiritual reality, that remains always the same."
Julia Cameron Transitions p-ix

Imagine trying to severe a mature tree from its roots at the bottom of the trunk with the intent of moving it to another location, perhaps by helicopter, train or truck, and then simply drop it into the ground as is done when a post for a fence is installed. The tree would more than likely die and just topple over when the first strong wind came by. When we think of a tree our minds are usually drawn to what we see with our eyes, we rarely get the opportunity to see the roots or root systems, that trees rely on for nourishment and stability. Yet, they are an integral part of a tree's life. A tree without its roots would be like a human without a heart, It would have no way of being nourished & strengthened and would just die.

Trees must have strong roots that are nourished by water and nutrients left in the ground by life that existed in previous generations of plant, animal & tree life. The roots of the tree, what we don't see with our eyes, are as equally important as what we do see in the life of the tree. Some tree families characteristically have roots that go as deep as the tree is tall! Other families of trees are quite literally united underground as their roots stretch out they wrap around each other creating an intertwined fabric with an expanse, that is known, to stretch for miles. Imagine how strong such an ecosystem is. Some of us are born into families, sub-cultures, even nations in which there is a great sense of 'being rooted' into a worldview or belief system. Cultural, moral, religious and even scientific truths that has created a mosaic worldview that has been tested by history and generations of great thinkers, in America we can sight our Judeo-Christian values, the notions of freedom, equality, and the right to the 'pursuit of happiness' along with many concepts gleaned from the European enlightenment.

Sadly I believe that many are sharing the fate of such a tree. In 20 years of law enforcement & working in clubs & college campuses it is obvious that western culture, and perhaps this generation in particular, has lost it's sense of roots. I would say that most individuals under 40 in America knows very well why they do not trust in institutionalized religion, traditional lifestyles and worldviews that have been embedded in time tested belief systems and worldviews. They just do not know and do not have the tools to determine and identify what belief system to build a life of purpose in the pursuit of meaning . There is a serious lack of roots.

I have a friend who is a very creative Bohemian type of individual, who like me, is deeply committed to world peace & community. I quite accidently offended him when we were discussing the implications of being 'open minded'. I explained to him that I had observed that what most imply when they say they are 'open minded' is the consideration of any philosophy, belief system or idea that is not traditional in the Western sense or has its roots in Judaism or Christianity. I expressed that being open minded mandates an open dialog to all perspectives and a concerted effort to understand not just a philosophy but why people believe such things. Admittedly, he stated that traditional views are no longer the accepted as valid, they had been historically proven fallacious and they simply now fall outside of any dialog or debate. In other words, the dominant worldview, particularly here in the West, is secular. Traditional, conservative or religious perspectives would not be considered by an individual claiming to be open minded. Therefore being open minded is simply considering themes and variations within the modern worldview and is in a sense closed minded to anything outside of sphere of accepted beliefs. Many are walking around claiming to be open-minded but are actually quite much the opposite.

I believe we all need to be aware that history is very complex and the rate at which our world is now changing is unprecedented. Institutionalized religion and even secular philosophies have been a mixed blessing. In part, because of the beliefs that they were founded on or the twisting and the perverting that takes place when the desire for power outweighs the good of the many. However, many belief systems have at their core truths that have been obscured if not precluded simply as a result of the fact that they are now assumed to be inseparable from an institutionalized system and bureaucracy. In the modern debate and in individual's pursuit of meaning there are many perspectives and voices concerning what is truth and worthy of our commitment in thought & action. However, these notions are very often not established in a greater historical ground from which to secure a truly strong rooting.


The momentary place of the eternal

I tried to discover the lasting beyond the passing, the eternal beyond the temporal, the perfect love beyond all paralyzing fears, and the divine consolation beyond the desolation of human anguish and agony. I tried constantly to point beyond the mortal quality of our existence to a presence larger, deeper, wider, and more beautiful than we can imagine, and to speak about that presence as a presence that can already now be seen, heard, and touched by those who are willing to believe…..
I have been led to an inner place where I had not been before. It is the place within me where God has chosen to dwell."
Henri Nouwen Seeds of Hope p-6

Thus far we have not considered the question of God or spirituality other than sighting the role of religion in its historical context in defining meaning and potentially giving the individual a purpose to live for. One of the core concepts that we have explored in Meaning Tree is that we can live with purpose and that can be a justified, and even an honorable pursuit. However, to answer the question of meaning, we are required to see our lives in something of universal context, a much broader perspective that embraces our 'ultimate purpose' as it relates to creation and its Creator. In other words we must take into consideration the transcendent when answering the question of meaning.

I believe that this is the place to consider the possible role of God & spirituality in our personal pursuit of meaning. I agree with atheists, philosophers as well as great theological thinkers, that meaning requires an extra dimension to contextualize the value of our purpose or life in its entirety. The question of meaning will compel us to ask; what has been the point of all my striving? What does all my purposes in life both in success and failure add up to? In the end, who am I, and where does it all lead?

Atheists believe there is no design, no designer, a reality that has been created by just chaos and a role of the dice chance and therefore there is no meaning and certainly no need for, God, spirituality, the soul or life after death.. In modern times most non-believers hi-jack their interpretation of science saying that belief in transcendence, God or spirituality is the stuff of fairy tales. The problem of the question of meaning requires at the very least transcendent considerations that I believe are not far out of the consideration of modern scientific discovery. If you feel that there is good reason to accept that the cosmos, the miracle of life, consciousness and soul was created with purpose and and capable of discovering or fulfilling a meaning, then you may very well be compelled to seek out the larger context that meaning itself demands. Let us dig a little deeper to those 'unseen' roots of the larger context - the potential transcendent origin of the cosmos and life.

The meaning of parsimony and complexity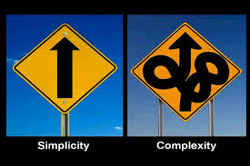 ---
It is funny I often hear people say things like "all this meaning stuff is too complex, and why can't we just get on living and be satisfied with the simple things in life!" I could reply that there is nothing simpler than following the command; "love the Lord your God with all your heart, soul, mind and strength and love your neighbor as yourself" Many times I get replies like; "that is fine, but I do not buy into the stuff of religious rules". So, on the one had some would decry the simplicity of following a time tested and universally accepted axiom, and on the other, excuse their lack desire to seek out the meaning of life because it is too complex!
Humans are on the one hand lazy, and really do not want to do the intellectual work in deciphering the complexity of life, and likewise too proud and arrogant to accept simple truths. Perhaps the reason why there has been so much unnecessary suffering. A wise soul understands that creation is complex as is our role in it, however, the greatest of truths are very often the ones that are simplest, that nearly anyone can understand.
I have come to learn to humbly accept, with many brilliant scientists and a myriad of the world's greatest thinkers, that creation is far too complex and mysterious for even the greatest of minds to comprehend. I have likewise discovered that faith is not folly, but an intellectual posture or agreement, the stance of a soul that is truly seeking to learn. As a learner I am very willing to entertain the questions; can I be certain that my being, 'Me' or my soul will live on after my body breathes its last? Can I really with absolute certainty prove that God exists or that there is a meaning in life? Though I know that something does not come from nothing, I still press on to learn about the mysteries of creation seen and unseen? As a learner, I know that we all, atheist as well as the most pious of believers must accept on faith, either scientific truth about reality as well as what we experience as spiritual truth. For the seeker of meaning in life, it is largely a question of simplicity but I would add coherence as well. Identifying, a belief system that deeply satisfies the intellect, the emotions or the total person, commonly referred to as soul. My faith compels me to seek out a belief system, that is ultimately capable of embracing what can be learned from sciences investigation of the truths of creation, and those transcendent truths that facilitate harmonious relationships and create a coherent perception of reality.

Meaning raises the question; what do I believe about creation its Creator and my ultimate purpose in it all? A very complex intellectual pursuit, but for many a step of faith that is rather simple.

For the religious or the spiritual minded it perhaps should not just be a question of the existence of deity, transcendence or the eternal. Rather, it should center on the question; how does one discover the essence of the deepest truths in heart, mind and soul in the pursuit of meaning. Unfortunately, as we have already discussed, having religion or a dedication to its many precepts may give a sense of purpose, but it does not guarantee that we will discover or live a life with meaning. Many good religious people with deep spiritual convictions are usually the first to declare that life and the many lessons that it reveals, is a big part of living with meaning many more struggle day in and day out, not certain one way or the other.

Again, the pursuit and living in the presence of meaning is a process. Living in the presence of meaning, is certainly part intellectual, but it is also part emotional and will often beckon us to reach beyond ourselves and even creation itself. Our pursuit of meaning connects us to a much larger context, and gently demands of us something of a reply. The question of meaning will lead us to place of intellectual and emotional nakedness, in which we are confronted with the questions;

What do I believe in?
Is there more to my life than being born, living & dying?
Will my soul live on after death?
In the end a new beginning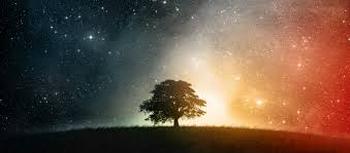 Every new beginning comes from some other beginnings end
Seneca

Behold the new is born the old has passed away
II Corinthians 5:17


---